You're a videographer or a content creator and your video is almost ready to be released to the outside world… all that's missing is the music. On your quest for the best track for your new project, you bump into a bunch of music licensing companies. But where to choose? What does each platform offer you and which one can best fit your needs?
There are many factors to consider when choosing a music licensing platform from which to get the right music for your video. In this article we will break down the most important points to consider, comparing Artlist to Bensound.
Artlist and Bensound are both excellent music licensing platforms that, at first glance, share many similarities. However, if you start looking at them in detail, you will find quite a few differences that will surely help you see clearly which one is better suited to you, and what you are looking for in a music provider.
The Catalog
A quick look at Artlist's and Bensound's libraries reveals that it would be near impossible not to find the right track for your project on either of the two platforms. Both music providers offer a vast choice of tracks and are adding new music every month.
The first difference is that while Artlist appeals to a larger market by providing sound effects and footage, Bensound's focus has been entirely directed at providing highly curated music.
Now, what is the first thing you will find when you access both platforms?
Artlist's home page directs you toward its pricing page first but if you scroll far enough to the bottom of the page, you will see that it displays what you might first think is a sample of its library but is, in fact, Artlist's actual library with an infinite scroll feature.
On the other hand, earlier this year, Bensound carried out an intense facelift of its web portal, substantially improving the user experience. If you have come to find the perfect track for your project, you will appreciate that simplicity and efficiency are what should be most important. In that sense, you will already find the first difference between the two platform's layouts, which is that Bensound goes straight to the point. From the home page, it directs you straightaway to what you came here for – its library – with its Browse music button.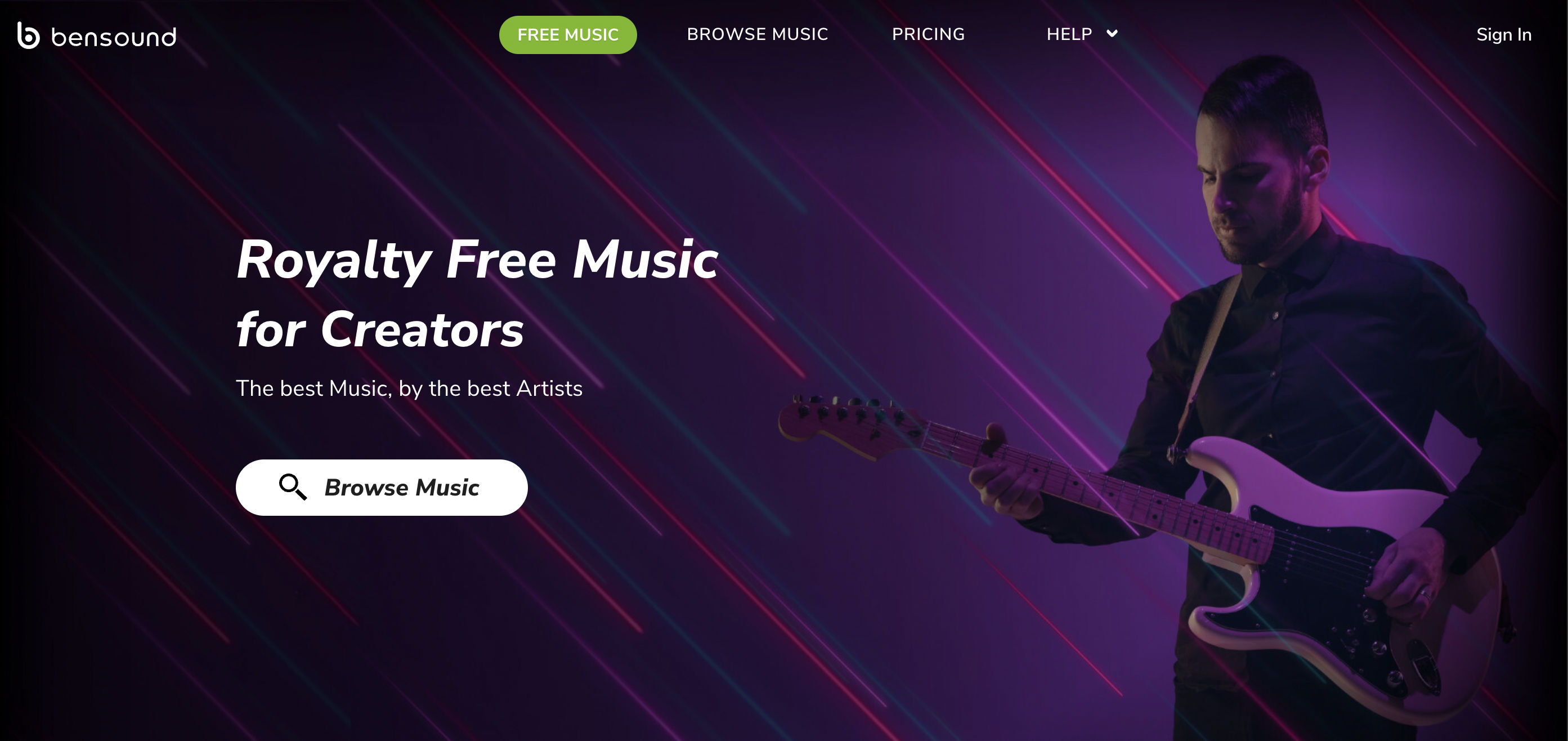 Once you get into Artlist's and Bensound's libraries, you will see that the possibilities of filters in the two platforms are very similar. Both allow filtering by genre, mood, instruments, theme, energy level/BPM, and duration, with a considerable variety in each section.
While Artlist's filters are positioned on the left as well as on top, with some sorted alphabetically and some not, on Bensound's side emphasis is given to a simpler and clearer layout. The platform strives to offer a more intuitive and hassle-free experience for users who expect to find quickly and easily what they are looking for, and it offers a few additional alternatives within each filter as well as a Free Music toggle button.
This leads us to another feature that is specific to Bensound. Also instantly visible from the home page, Bensound offers an interesting Free Music section: tracks that you can download directly, at no cost, and use unlimitedly in online videos that are published and accessible free of charge and credit Bensound. Maybe a walk through the Free section will have you find exactly what you're looking for and you will not have to commit to anything at all. If not, licensing is always an option.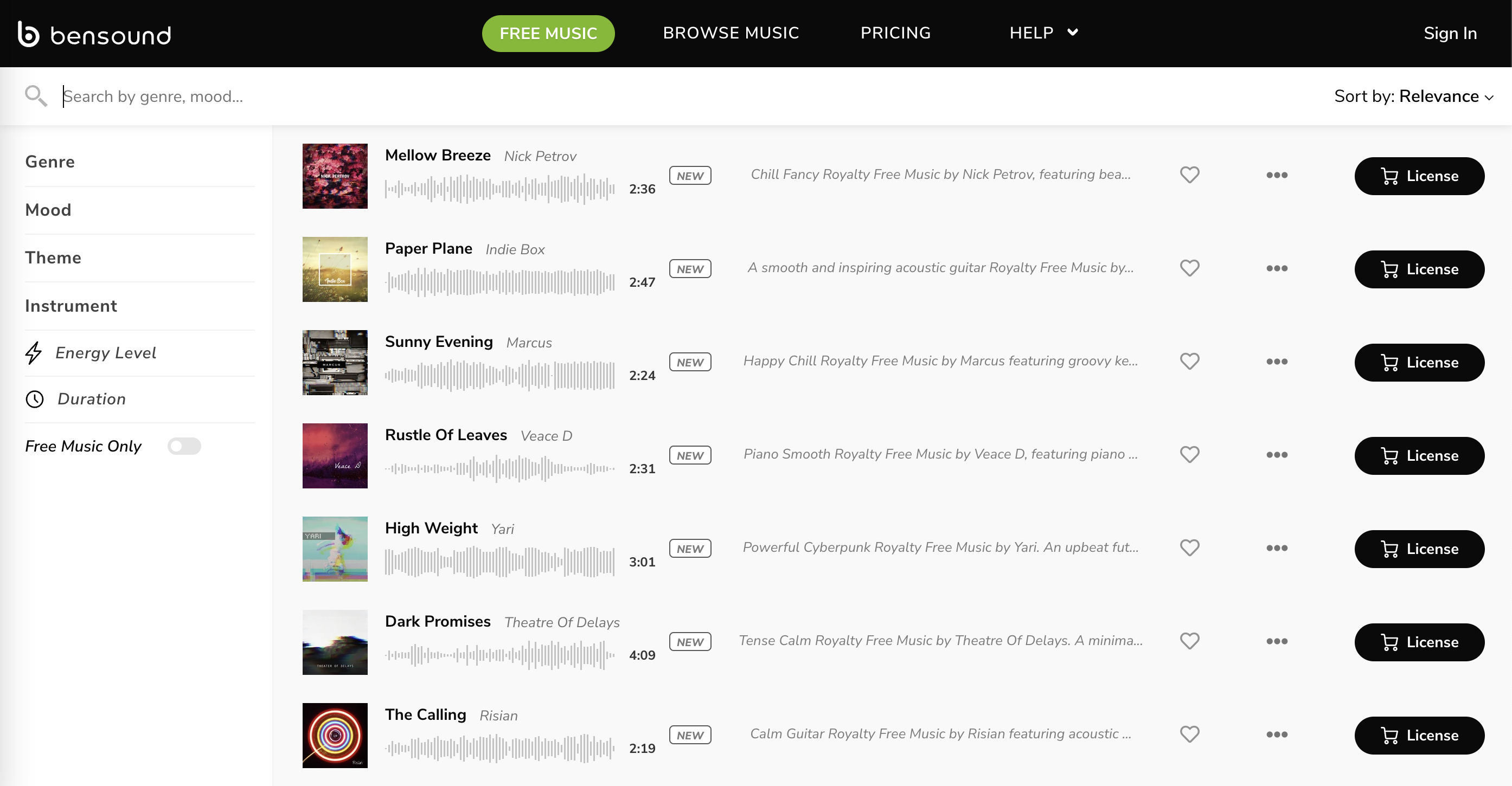 Licensing and Pricing
In terms of licensing and pricing, Artlist only offers subscription plans while Bensound offers both subscription plans and pay-per-track options.
If you are not fully ready to commit to a platform or do not have the need for countless downloads, Bensound's pay-per-track options might be of interest to you. Starting at 34 EUR per track with the Standard License, you can opt to pay only for the track(s) you need. No hassle, no commitment, it is perfect for someone who only needs to use the service occasionally.
On the other hand, if you regularly need music for your projects, you might be interested in subscribing to one of the two platforms to download and use a larger amount of tracks.
Artlist's cheaper plan, the Social Creator plan, starts at 119.88 USD per year (if billed annually, or 14.99 USD if billed monthly) and is limited to use on certain social platforms.
Bensound's cheaper unlimited option is the Standard All Access Subscription for 144 EUR per year (billed annually), a slight price difference that is explained by the fact that it does not restrict the number of platforms it can be used for and also includes music on hold, background music (online and in person) and educational public performance usages.
Artlist's subscription plans aren't fully unlimited but will allow you to download as many tracks as deemed "reasonable" by the platform which is currently capped at 40 tracks per day.
On the other hand, each of Bensound's All Access Subscription plans will give you access to their entire library with unlimited downloads, without limit or cap.
Finally, one last difference is that Bensound licenses for video production as well as broader usages such as applications, games, music on hold, and public performances while Artlist's music is only licensed for video and podcast production.
We hope to have clearly illustrated the differences between Artlist and Bensound, and above all, to have helped you see which library best suits your needs and your work methodology as a content creator.
For now, don't hesitate to take a closer look for yourself at Bensound, perhaps sample a few of our Free Music tracks, and enjoy our newly renovated web portal and catalog.